About Us
Lodge #5 is the largest FOP Lodge in Kansas. It represents the men and women of the Wichita Police Department. Lodge #5 received its charter on December 6, 1973 and today has a very strong membership base of over 600.
Officers, Detectives, and Sergeants comprise the commissioned officers represented by Lodge #5. Lodge #5 also represents some of the limited-commision and non-commissioned civilian personnel of the W.P.D. These include Warrant Officer, Assistant Range Masters and Crime Scene Investigators. Lodge #5 represents all of these personnel in contract negotiations and grievance procedures.
Membership is open to all commissioned members of the Wichita Police Department and those within the bargaining unit. Associate memberships are available to those who do not meet the criteria for full active membership but desire to assist in forwarding the aims and goals of Law Enforcement and this Lodge.
Our collective bargaining agreement is available for other bargaining units. Contact the President to obtain a copy.
FOP Logo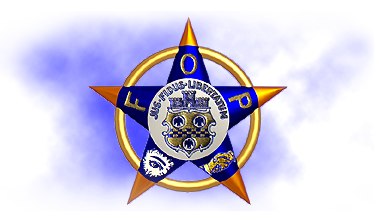 Colors, blue and gold on a white background.  The star symbolizes AUTHORITY; the handclasp FRIENDSHIP; the eye VIGILANCE.  The double circle binds the seal of Fort Pitt to remind us of where the Order originated.  The Latin motto translated - "LAW IS THE SAFEGUARD OF FREEDOM.

Page Last Updated: Jan 07, 2017 (10:45:00)